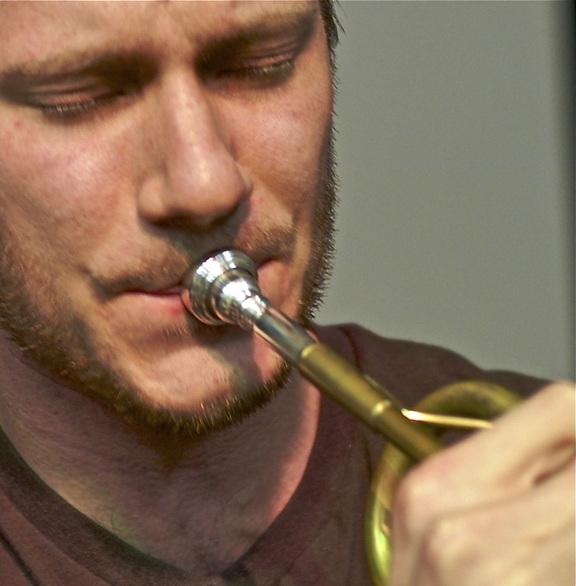 The City Wire photos by Miles Fish
more JAZZ rehearsal photos by Miles Fish
at the end of this article
---
The 250 Years MASHUP
BIG ORCHESTRA meets BIG-BAND
Click-N-Change at the WAC
The City Wire article by Miles Fish,
classical music
www.MilesFish.info
Thanks to more than a decade of techies-gone-wild we now live in a state of Click-N-Change instant gratification. Our laptops, desktops, ultras, airs, pads, pods, smart phones, 100+ channel remotes equip us for perpetual immediacy and there is not enough Ritalin worldwide to ease our self inflicted ADHD.
This IS the new us. Click-N-Change is how we receive, manage and channel information.
It is also how we entertain ourselves and how we are soon to be entertained.
A case in point: "250 Years of Greatest Hits" presented by Symphony of Northwest Arkansas and
The Fayetteville Jazz Collective, March 10, 7:30 PM, Walton Arts Center.
CLICK: music by GLENN MILLER
CLICK: music by MOZART
CLICK: music by STRAVINSKY
CLICK: music by DUKE ELLINGTON
CLICK: music by GLUCK
CLICK: music by HENRY MANCINI
CLICK: music by BEETHOVEN
CLICK: music by LUIS PRIMA
CLICK, CLICK,
CLICK…
The symphony orchestra and the jazz big-band will be on stage side by side. Both groups will play hits from the classical and jazz genres that will be interwoven into a continuous musical fabric, according to the SoNA website.
Maestro Paul Hass will CLICKthe musicians through two and a half centuries of memorable music. The "250 Years of Greatest Hits" is a welcomed program format that is innovative and ambitious. However, it is the music selected by SoNA and the Collective will rightfully claim the March 10 center stage spotlight.
Jazz Collective spokesperson Ben Harris said that Chase Cavalier, Collective trumpeter, approached SoNA Music Director Paul Haas and they discussed the possibility of combined performance. Harris gave credit for the "250" idea to Haas, "The 250 years of hits idea was his from the start and we loved it."
The Collective, formed in 2009, is a traditional 18 piece jazz big-band. The Northwest Arkansas group performs swing era classics and modern age big-band music and also features original music by local composers. The "250" concert will include Rick Salonen's "El Lobo Cuarenta." More info about the Collective is at fayettevillejazzcollective.org .
If your visits to the concert hall are limited this year, this is one to put at the top of your consideration list. Purchase tickets online at sonamusic.org . For more info, including a list of music to be performed, go to sonamusic.org/sona-and-the-fayetteville-jazz .
According to the SoNA website, A Creative Conversation with Paul Haas and KUAF/NPR 91.3FM News Director Kyle Kellams will take place at 6:45pm in Starr Theater. It is free and open to anyone with tickets to the concert.
EXTRA EXTRA
Concert Trivia Side Bar
The music will be familiar so here are some not so familiar notes about a few of the "250 Years" composers.
GLENN MILLER was a mild mannered perfectionist who on at least one occasion mandated that everyone in his band wear maroon socks. (allaboutjazz.com)
HENERY MANCINIplayed piano with Glenn Miller before he became a staff composer at Universal Studios where he eventually was nominated for an Academy Award for arranging the music for the film "The Glenn Miller Story." (movies.nytimes.com)
"MOZART" was Gustav Mahler's last word before he died. (8notes.com)
LOUIS PRIMA downsized his big band in 1954 and became one of the founding fathers of the Las Vegas entertainment scene. (louisprima.com)
EDWARD ELGAR was largely self-taught as a composer and his long struggle to establish himself as a pre-eminent composer of international repute was hard and often bitter. (elgar.org)
AARON COPLAND also composed nine film scores and received an Oscar for "The Heiress." (americancomposers.org)
RIMSKY-KORSAKOV retired as a Russian naval officer to become a professor of music composition. (greatkat.com)
STRAVINSKY entered law school THEN began private composition and orchestration studies with Prof. Rimsky-Korsakov. (allmusic.com)
Joe Zawinul-- "One day I heard a pianist play `Honeysuckle Rose,' ... and I was hooked. I said, `What is that?' He said, `jazz,' which was a word I had never heard, and I asked him to spell it for me. My life was changed after that." (zawinulmusic.com)
Fayetteville Jazz Collective rehearsal photo gallery: The City Wire photos by Miles Fish
http://www.thecitywire.com
http://www.fayettevillejazzcollective.org/
http://www.sonamusic.org