Miles Dayton Fish
Contact Information
PERSONAL
milesfish@mac.com
Cell: 479.366.3331
3002 Loring Street
Bentonville, AR 72712
NWACC
Professor of Music
NWACC in ITALY (Siena) School Director
mfish@nwacc.edu
​
NWACCinITALY.com
Phone: 479.619.2237
Fax: 479.619.4290
One College Drive
Bentonville, AR 72712
---
MFD
Brief Profile
Miles Dayton Fish
milesfish@mac.com
479.366.3331 (cell)
479.619.2237 (office)
EMPLOYERS
Northwest Arkansas Community College 1996 - Present
Professor of Music
NWACC in ITALY (Siena) School Director
Chamber Singers, conductor
2008 NWACC Sabbatical Award Winner
American Choral Directors Association (ACDA)American Musicologist Society (AMS)Society for American Music (SAM)National Endowment for Humanities "America's Music Scholar"
First United Methodist Church of Bentonville 1996 - 2014
Director of Music
The City Wire 2012 - 2013
Classical Music Reviewer
Arkansas Philharmonic Orchestra 2008 - 2010

A Founding Conductor / Artistic Director

Civic Symphony of Benton County 2000 - 2008
The Founding Conductor / Artistic Director
More Past Employers
Upward Bound summer program for at-risk teens, U of A, Monticello American School for College Musicians, Siena, ItalyDumas (AR) Junior High School
Dumas (AR) High School
First United Methodist Churches: Star City, Dumas, Gillette, Cabot (all AR)
Professional Tour Guide / Tour Planner
U.S.A. 1985-present International 2000-present
EDUCATION
GRADUATE / POST-GRADUATE
University of Louisiana at Monroe (formerly NLU), MA Conducting, Choir and Orchestra
Perkins Seminary, SMU Dallas, Church Music
Accedemia Chigiana, Siena, Italy, Master Classes-Conducting
UNDERGRADUATE
University of Arkansas
Journalism/Communications (BA)
Vocal Performance (BA)
Literary Magazine Editor
Who's Who American College & Universities
Sigma Nu Fraternity Rush Chairman University of Arkansas at Fayetteville
HIGH SCHOOLS
Star City High School (AR)
Library of Congress High School, Washington, D.C.
(Senior High School Year: U.S. Congressional Page for Hon. Oren Harris)
OTHER
National Endowment for Humanities "America's Music Scholar 2013" Crystal Bridges Museum of American Art, "Vivaldi's Spring Series," Guest Lecturer 2014
Professional Memberships:
The John Harrison Opera Foundation BoardAmerican Choral Directors Association (ACDA)American Musicologist Society (AMS)Society for American Music (SAM)
PERSONAL INFORMATION
Originally from Star City, ArkansasMarried Byretta Hurst of Hot Springs, Arkansas, September 2, 1971Byretta, manager of "Superior Senior Care" in Fayetteville and Rogers for 18 yearsWe've lived in Bentonville, Arkansas, since 1996Children: Milo, Jason, Spencer, Nicholas, EmilyGrandchildren: Halle, Eli, Oliver, Elianna, Evie
Vietnam Veteran, USN
___________________________________________________
Ebooks about Italy by Miles Fish
Available at Apple's iBookstore
_________
"DODICI-The First Twelve Italian Summers" by Miles Fish
Travel / Photography
_________
"RECAPITULATING VIVALDI" by Miles Fish
A Screenplay, sort of
historical fiction; illustrated/annotated interactive for iPads/Macs

NOTE: "DODICI" and "RECAPITULATING..." are FREE download at Apple's iBookstore
_________
"LOOKING FOR VIVALDI" by Miles Fish
Travel / Photography
Cities of Antonio Vivaldi
Venice, Vienna, Prague, Dresden, Amsterdam and Florence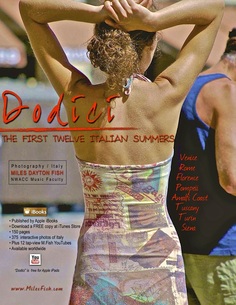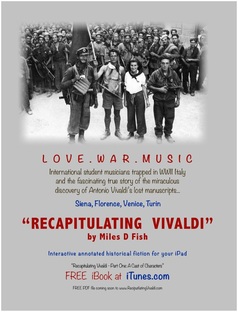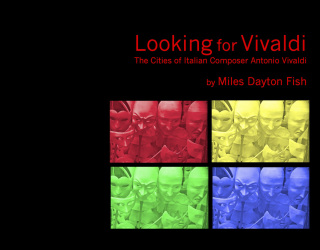 Fish Links, Travel Videos by Miles Fish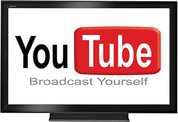 Most of the Videos are 2-3 minutes long and include music.
Best viewed HD / Full Screen.
Click on a title below to watch.
Ten Days in Tuscany Video
Venice Ten Days Trip Add-On Video
Vivaldi's Staircase, Venice
Three Minutes in Times Square, NYC
The Amalfi Coast, Italy
Prague Street Art
Venice, Italy
Florence, Italy
Amsterdam Art, Mark Raven Part 1
Amsterdam Art, Mark Raven Part 2
Dresden, Germany
Salzburg's Schloss Leopoldskron
Four Towers Castle in Siena, Italy
MoMA, NYC
Pompeii, Italy
Peggy Guggenheim's Garden in Venice
For a complete list of M.Fish videos click on
Youtube.com
then google milesDfish.
__________________________________________________________