Bookmarked between two choral works that are among the most recognized and most performed in the Classical repertory--Ave verum corpus and the unfinished Requiem--were the intense and remarkably productivity last days of Amadeus Mozart. These Two works helped to redefine the venue of the religious choral repertory and broken the audience from the cathedral to the concert hall.

The Ave verum corpus (K.618) autograph was dated June 17, 1791. On 5 December, 171 days later, at the age 35, Amadeus Mozart's life ended.

During those 171 days he wrote two operas (K.621, K.620), two cantatas (K.619, K.623), a clarinet concerto (K.622), a motet (K.618), an aria (K.621a), a contrapuntal study (K620b), cadenzas for piano concertos (K.624), and an uncompleted requiem (K.626). He conducted his opera's premiere in Prague (K.621), and then premiered another opera in Vienna (K.620), he conducted his original work (K.623) for his masonic lodge, and debuted his original work for glass harmonica (K.617), the musical instrument invented by Ben Franklin.

During those last days he also welcomed into the world Franz Xaver Wolfgang his second surviving son born 26 July who(m?) he named in honor of the man who would, soon after Mozart's death, begin working in secret to complete Mozart's requiem**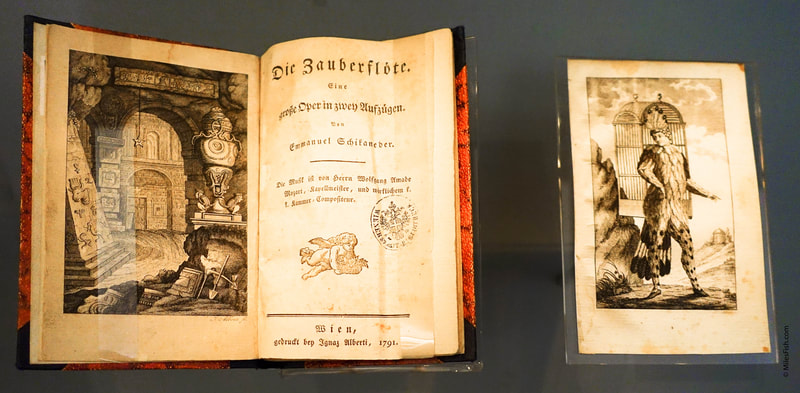 Fig. #1. Sounded by the city of Vienna, St. Marx Cemetery is an ancient labyrinth of tombstone paths that lead to a small meadow where Wolfgang Amadeus Mozart was laid to rest in 1791.
J U N E
On June 4, 1791 in her six month of pregnancy. Constanze Mozart who was experiencing problems with varicose veins. She left Vienna with six years (7?) old son Karl to take the spa waters at nearby Baden. Mozart sent along Franz Xaver Süßmayr, Mozart's colleague, music theater composer, and family friend, to keep Constanze and Karl company.
Anton Stoll, another of Mozart's good friends, was a school teacher and church choirmaster in Baden who made lodging arrangements for Constanze. Mozart wrote to Stoll

"Please arrange for a small apartment for my wif'. She only needs a couple of rooms — or a room and a small
chamber. The main thing is, though, it needs to be on the ground floor…"

Mozart joined them on June 15. While in Baden he wrote Ave verum corpus for SATB voices, strings, organ and dedicated it to Stoll (the autograph is dated June 17, his thematic catalogue is dated June 18).The motet was first performed in Stoll's church June 23 at the feast of Corpus Christi. Presumably Stoll conducted as Mozart was back in Vienna by this time. Stoll was the first owner of the Ave verum corpus autograph along with five other Mozart autographs.
Mozart later wrote in a letter to Stoll

Dearest Stoll!
good old troll!
you sit in your hole
drunk as a Mole!
but you're touched in your soul
by music's sweet flow.

The elegant simplicity of Mozart's setting of the 14 century Latin Eucharistic text might be attributed Mozart's awareness of the Emperor's ban on elaborate concert church music and also on Mozart's awareness of the limitations of the small town Baden church choir and orchestra.

Ave verum corpus was Mozart's only completed sacred work since his dismissal ten years earlier by Salzburg's Prince-Archbishop Colloredo. (One other sacred major work, Mass in c (K.427), was written during that decade but the Mass premiered unfinished in Salzburg and the remained unfinished.)

Ave verum corpus, Mozart's return to sacred composition, was no doubt a heartfelt thanks to his good friend Stoll. However, Mozart's choice to compose church music at this time in his life may also be due to his recent request to the Vienna city council to appoint him an unpaid adjunct to St. Stephen's Cathedral Kapellmeister Leopold Hofman (1738-1793). According to Mozart's request he would assume the lead position at St. Stephen's upon Hofman's retirement or death. Mozart wrote to the council

"…taking the liberty of applying for his post in view of the fact that my musical abilities and achievements as well as
my composition skills are well know abroad and my name is held in some esteem in the world…"

The council at first denied the request but reversed the decision approving it on April 28 and officially appointed Mozart on May 9. Church music was once again in Mozart's professional life.


Fig. #2. Photo of the Mozart Ave verum corpus facsimile. The name "Joseph Schellhammer" bottom right on title page is the name of Anton Stoll's successor in Baden. Stoll owned sic Mozart autographs among them was K.337, K. 194, K.275, and Ave verum corpus K.618.