M i l e s F i s h
T E N D A Y S IN T U S C A N Y

This trip to Italy, stay in a Renaissance palace
La Dolce Vita ...unpack once and live it

NWACC Foundation
A P R I V A T E E S C O R T E D T O U R
June 9-18, 2018
(Arrive Tuscany June 9; Depart Tuscany June 18)
(Ten Days; Nine Nights--extended stays possible)
​
Ten Couples Minimum, Twelve Couples Maximum

T e n D a y s
in
T U S C A N Y

Standard Garden Room-with-a-View at Siena's Palazzo Ravizza
Palazzo Ravizza Hotel website: Hotel Palazzo Ravizza
Palazzo Ravizza Hotel Video: Hotel Palazzo Ravizza Video
(Room Upgrades and Suites available on request. Garden view rooms are subject to availability)
The Ravizza family palace in Siena opened as a hotel in the 1920s.
It is still owned and run by the Ravizza family.

One night in Florence at the Pierre Hotel
Four Star hotel in the center of the Florence Historic District

Two meals each day (daily breakfast plus lunch or dinner with wine)
Private Transportation from Florence airport to Siena's Palazzo Ravizza
(for guest arriving FLR by 1:00PM, June 9)
​Eight Nights at the Siena's Palazzo Ravizza
PLUS One Night at Florence Pierre Hotel
(Pierre Hotel: June 17th, the day before departure from FLR; includes private group transportation from Siena to Florence's Pierre)
Guided Museum and Historical Buildings Siena Tours
Siena's Duomo
Duomo Museum
Archeological Museum
Palazzo Pubblico
________________________________________

Included...
FOUR TUSCAN DAY TRIPS

DAY TRIP #1:
Private tour of two hill towns and a Spa from the Days of the Crusades:
Pienze (home of peccrino cheese) and
Montalcino (home of Brunello wine)
includes Wine Tasting and Lunch at "Enoteco La Fortezza di Montalcino"
Bagno Vignoni in Val d'orria
(historic Tuscan hot springs that became a Crusade's Spa...amazing)

DAY TRIP #2:
A Day in Firenze...Miles' Guided histoy walking tour of Florence
that includes the leather district and entrance to Santa Croce
and dinner at Trattoria Nella
Plus...plenty of free time for shopping in Florence, a city that once again rivals Milan and Rome as one of the world's shopping Mecca

DAY TRIP #3:
Castello di Brolio Cru Wine Tasting / Lunch / Estate Tour
Brolio Vineyard/Winery tour with wine tasting and
four course fine dining at the castle

DAY TRIP #4:
Monte Oliveto Maggiore Monastery
Tour the Monastery on our own then lunch at the Abby Restaurant
_________________________________________

Cost per person double occupancy
$2,690.00*
​Includes a $200 tax deductible donation ($400 per couple)
​to the NWACC Foundation
to support scholarships for
NWACC in ITALY study abroad students
​*(The $2,490.00 actual cost of the land package is based on today's Euro/USD conversion;
a firm price will be posted September 30, 2017)
Note: if an excursion or meal destination is canceled,
it will be replaced with an excursions or meal with equal value.

While we are in Siena, we'll visit our NWACC in ITALY students
studying Italian Language (Italian Professor),
Photography, and World History (both NWACC Professors).
We'll share a banquet with the NWACC Students the evening of June 17.
Learn more about NWACC's innovative study abroad program
and our Italian education partner, Università per Stranieri di Siena. Click below.
NWACC in ITALY . com

Cost does not include transportation from U.S. to Siena
(But DOES include private group transportation from
FLR Florence Airport to Siena's Ravizza Hotel for travelers arriving at FLR by 1:00PM June 9
and DOES include private group transportation Siena to Florence Pierre Hotel June 17)

A moderate amount of walking is required to enjoy Siena and Tuscany.
If you have mobility questions, Miles has answers at milesfish@mac.com

Private Group Transportation Included:
FLR/Siena June 9, 1:00PM
Siena/Castello di Brolio
​Siena/Montalcino, Piena, Bagno Vignoni
Siena/ Monte Ooiveto Maggiore Monastery
Siena/Florence Pierre Hotel June 17
​Transportation provided by Tuscany Experts (the transportation our NWACC in ITALY uses)

​"Ten Days in Tuscany" is escorted by Miles Fish.
Miles has been Professor of Music at
Northwest Arkansas Community College for more than 20 years
He has been a summer resident of Siena, Italy for 17 years
Miles is the founding faculty director of NWACC in ITALY,
Northwest Arkansas Community College's study abroad summer campus in Siena.
​(scroll down for Miles Fish Leadership Travel Resume)​

La Dolce Vita ...unpack once and live it
Below: M.Fish Photos of Tuscany-(rapid slide show)
Scroll Down for...
More Day Trip iInformation
Day Trip #1: PIENZA and MONTALCINO and BAGNO VIGNONI
Pienza is one of Tuscany's most picturesque hill town and home of some of the world's great cheeses.
Pienza is also a favorite movie location. "The English Patient" is one of the movies that was shot here.
Montalcino
Home of Brunello and Rosso di Montalcino one of the world's most valued wines
We'll have wine tasting and lunch at the Enoteca at the Forte

Tour Tuscany? ​​This summer live it.


Optional Trip Add-On
to the Ten Days in Tuscany Trip
3 Days/2 Nights in Venice
Scroll below for info
V E N I C E
Thinking about the Venice Add-On?
Click on the photo below and view the
M.Fish video on YouTube
(best seen in HD / Full Screen)


Three Books about Italy by Miles Fish
Available at Apple's iBookstore
​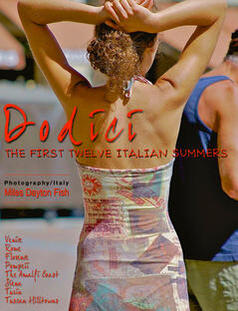 ---
______________________________________________________________________