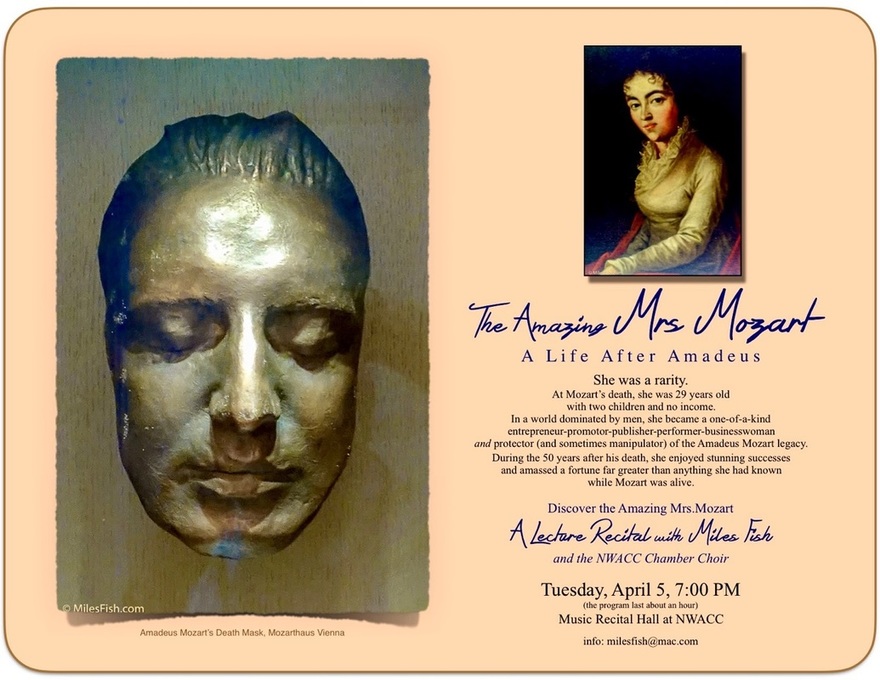 ​The Amazing Mrs. Mozart: A Life After Amadeus
a Lecture Rrecital with Miles Fish
Chamber Choir of Northwest Arkansas Community College, Myron Flippin, Melissa Eubanks
---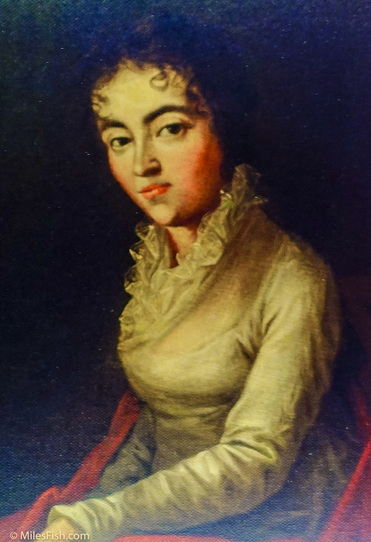 1756
—Mozart born
1762
—Constanze born (father was a singer/copiest, Carl Maria von Weber was her uncle). Her sisters were:
Josepha (singer—Mozart wrote Queen of the night in The Magic Flute for her)
Aloysia (singer—Mozart wrote Donna Ann in Don Giovanni)
Constanze (singer—Mozart wrote one of the sop solos in Mass in C minor for her)
Sophie (living with Mozarts when Amadeus died)
1777
—Mozart in Mannheim meets/loves Aloysia; Mozart, Aloysia and her dad tour
1778
—Mozart and his mother: unsuccessful trip to Paris no commissions or gigs, poor lodging accommodations without heat, Mother dies in Paris
1779
—Constanze's family moves to Vienna for Aloysia's singing career (reportedly she was the Renee Fleming of her day), Aloysia's father dies and her mother takes in borders to help pay bills
1780
—Aloysia marries fellow performer Joseph Lang and Mozart is heart broken (Mozart writes a reply for Aloysia "
https://www.youtube.com/watch?v=MbrXZvu8bUo
(:50-1:20)
NOTE: Mozart and Aloysia soon after become the best of friends; he wrote eight arias for her and she premiered Donna Anna in Don Giovanni. Aloysia's husband Joseph lang was a musician who is also painter, he painted the portaiates of Constance (above) and this one of Mozart (below: Constanze said it was the closest likeness of the portaiates painted while she was alive)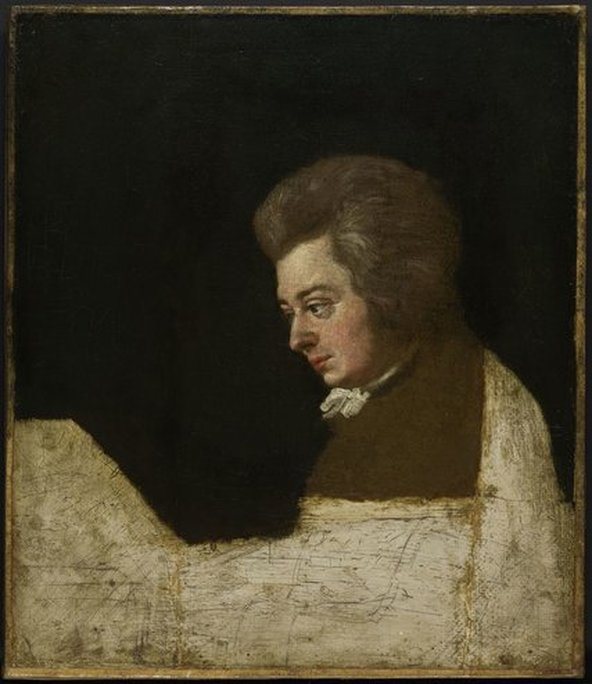 1781—Mozart becomes a border at Weber house in Vienna; falls for Alysia's younger sister Constanze
1782—Abduction from the Seraglio a success but not financial success

1782—Mozart and Constanze Weber marry
Although Constanze mother and Mozart's father were against the marriage they were happy newlyweds (they started family right away-in 9 years they had 6 children/2 sons survive)
Both loved playing billiards and cards , they had two dogs, singing birds, entertained often, changed apartments often, both loved Bach and Handel (influence example came later in life: Requiem's Kyrie). Constanze and Mozart went to German churches to study Bach music and Mozart went to Bach's church in Leipzig to play on the organ Bach once played on. Wrote Mass in C minor-one of his first and one of the few church works. He wrote it for Constanze to show of her soprano voice on their only visit to Salzburg.
​
1782-91-Mostly good times for the Mozarts.
(Photos below of their next-to-the-last apartment in Vienna, Leopold's only visit to Vienna was at this apartment where he, Mozart and Haydn premiered the Haydn String Quartets)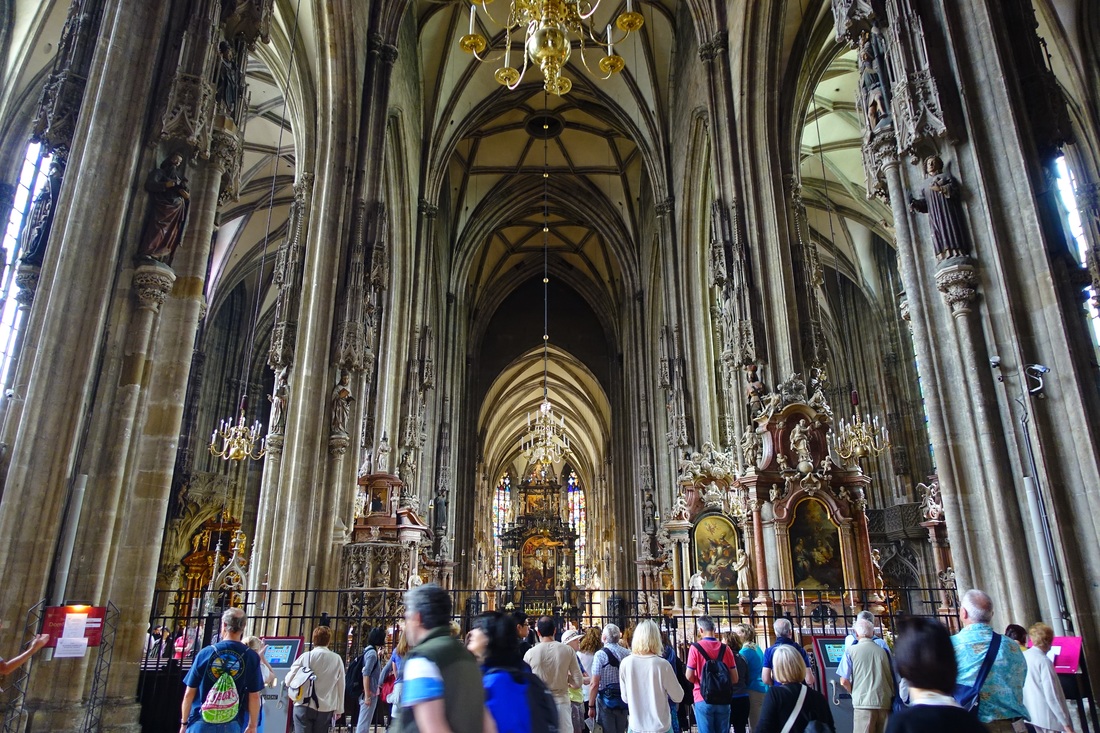 1785—(Late winter) Leopold makes his only visit to Vienna to see Son and Constanze; Haydn String
Quartets premiere at Mozart's home while Leopold is there
1786—Marriage of Figaro premieres in Vienna—music to difficult for short rehearsals. Figaro unsuccessful
​ in Vienna but successful in Prague
1787—Mozart receives a court composer stipend in Vienna
1788—Aloysia performs the role of Donna Anna in Vienna premiere of Don Giovanni
1790—Mozart away on tour: Constanze became aware of dire financial state, she organizes a house move,
​ negotiates loans and publication of his works.
​
__________________________________________________________________
NOTES: Thoughts about the Mozart's finances: WHY so much debt and DOES it matter? Was it gambling? Too much expensive Champaign? Outlandish clothing expenditures? Extravagant lifestyle? Constance's spa treatments?—-those are easy go-to answers that seem to be accepted because they always have been accepted but I don't believe they are necessarily the correct answers. I think economic sign-of-the-times in Vienna played the most important role in Mozart's financial struggles in the last years of his life and I think he may have been more of a "down-to-earth kind of a guy" when it comes to spending—-a music genius but none the less a music genius who is also mostly a "regular guy" when it comes to spending. So far, indications are that he did not have a taste for expensive liquor, common "punch" was his drink of choice; his clothes were reportedly from mostly common cloth rather than exotic weaves. Records show that he borrow money from his gambling friends but there is no record that it was for gambling debts. Also, there are two claims—so far unsubstantiated that he fathered two illegitimate children—if true this could certainly play into his financial pic in many ways. And there is a claim that he borrowed money on several occasions to fund a new Masonic Lodge—again so far unsubstantiated but believable due to the fact that apparently he was "deep into" Freemasonry (Magic Flute full of Masonic images, completed Masonic Cantata the year he died). No doubt travel and Constanze's spa treatments were a source of expense but this is probably an over exaggerated expense—spa was about 30 minutes away, she stayed in common quarters in town (irony: Constanze spent time on several occasions at the spa because she was sickly; Mozart died at age 35, she lived to be 80). They changed apartments 11 times in 10 years (stayed at one apartment—in photos—for about 2 1/2 years) so some years they moved twice. Why?
​___________________________________________________________________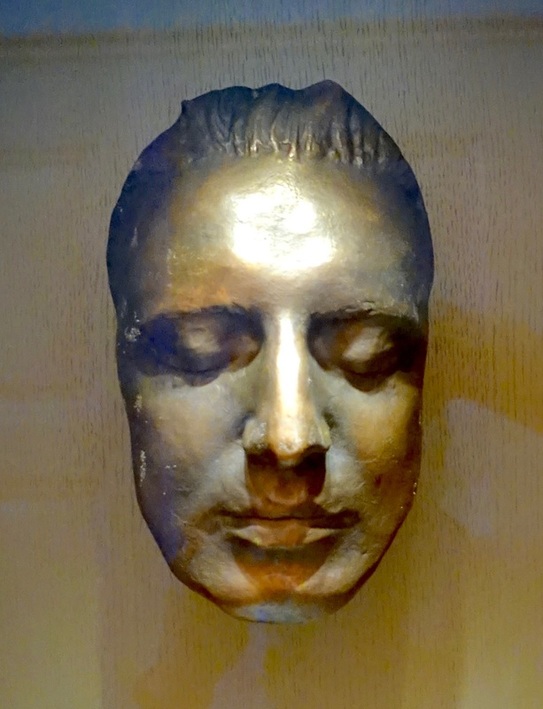 1791
--Final year, finances better, health declines
July—Mozart accepts commission from Count Franz Walsegg's messenger and neighbor Franz Anton Leitgeb (Count Walsegg, amateur musician who wanted to claim the work as his own and play at annual event marking the death of his young wife). Mozart received half upfront with the other half to be paid upon completion (about $50,000 total)
September (early) Mozart returns from Prague (coronation of Leopold II) with Constanze and Sussmayr. Mozart continues working on completing and staging The Magic Flute, Clarinet concerto for friend Anton Stadler, a cantata for this Masonic lodge, the Requiem for the Count
September 28—Finishes Flute Overture, conducts premier
September 30—The Magic Flute premiers—sellout runs for more than 100 performances; Mozart conducts, friend/partner/librettist/ theater owner Schikaneder plays Papageno, Josepha—Constanze's sister—is Queen of the Night; he completed the overture several night before the premiere (not unusual for him)
October (mid)—completes clarinet concerto, KV 622 for friend Anton Stadler
October (mid)—completes The Little Masonic Cantata, KV 623
October (late)—Constanze takes away requiem score from Mozart on doctors recommendation, Mozart claimed that he has been poisoned (according to Constanze who did not believe him)
November 18—Masonic cantata premieres and Constanze gives Mozart back the Requiem
November 20—Mozart takes to his sick bed but was expected to recover (according to Sophie), says he is writing the Requiem for himself
December 4—sudden decline
December 5—Mozart died shortly after midnight, Constanze is 29
December 7—(6?) Mozart buried
December 10—some finished portions of Requiem performed as a memorial for Mozart (Count doesn't know)
December 11—Constanze petitions the emperor for a small stipend and gets it
December 21—Joseph Eybler, friend/composer, brought onboard to finish the requiem but backs out; Sussmayer brought on board
December 28—Constanze sends text/score of The Magic Flute for publication
1792
—Constanze stages memorial concerts Austria, Germany, Prague , and aggressively publishing
Mozart's works, she eventually carves out a more than livable income from Mozart's works; 31 March
Beethoven played a concert to benefit Constanze and her children, Haydn is reported to have
helped with benefit concerts.
1792
Sussmayer finished Requiem
2 Jan Performance of Requiem for Constanze's benefit (Count did not know)
Dec (early) 1792 requiem delivered to count—he sits on it for a year
1793
14 Dec 1793 Requiem performed in memory of Count's wife—he claimed ownership; reprints it in his own hand
14 Feb 1794—Performed again for Count's wife
1795
—Aloysia tours with Constanze to benefit Constanze and family, Aloysia doesn't return to husband
separates from him and moves in with Constanze
1797
—Constanze meets Georg Nikolaus Nissen, Danish diploma, who has become her tenant in Vienna
1798
—Constanze moves in with Georg
1809
—Constanze marries Georg
1810
—Constanze and Georg move to Copenhagen until Georg retires from the diplomatic service
1820
—Georg retires, he and Constanze travel and eventually move to Salzburg
1824
—Constanze and George move to Salzburg with the help of once estranged Mozart sister Nannerl (who
has ownership of the Mozart family letters), Georg begins research on Mozart bio
1825
—Aleksandr Pushkin drama Mozart and Salieri about Salieri poisoning Mozart,
1897-Rimsky-Korsakoff perpetuated the tale in his one-act open
1978-Amadeus B'way play by Peter Shaffer
1984- Milos Forman's Amadeus movie
1826
—Georg dies, bio still unfinished, Constanze finishes it, markets it and publishes it (no doubt in honor
of her two beloved dead husbands), she is successful in dealing with bankers in Copenhagen about
George's estate, continues to be a good businesswoman for both estates. Her sisters move to
​ Salzburg and she takes care of them including Mozart's sister.
1842--Constanze dies in Salzburg, all Mozart's papers donated to the Mozarteum Foundation in Salzburg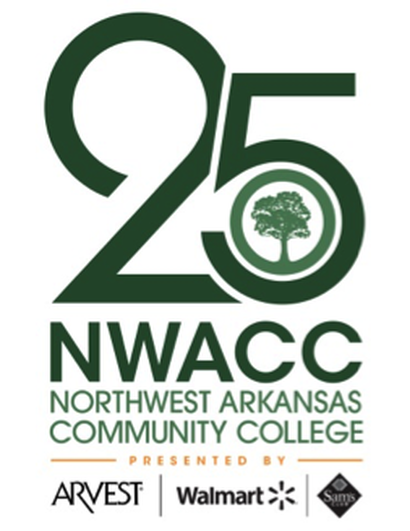 NWACC Music Events Spring 2016
Tuesday, April 12 at 7:00PM - Student Recital - Music Recital Hall
Tuesday, May 3 at 7:00PM - Chamber Singers and NWACC String Ensemble -
​ Shewmaker/Walmart Auditorium
Thursday, May 5 at 7:00 - NWACC Jazz Band - Shewmaker/Walmart Auditorium
Just Published - Steve Cooper adventure on the VIA FRANCIGENA "Lessons from the Trail." Available on Amazon
NWACC for Fall 2016
Chamber Singers - rehearse Tuesdays/Thursdays at 1:30 PM
NWACC Strings - rehearses Wednesdays at 6:00 PM
NWACC Jazz Band - rehearses Tuesdays/Thursdays at 4:30 PM
Sign up for private lessons in Voice, Guitar, Piano, Organ, etc. - we will do our best to accommodate your schedule.
NWACC Associate Degree in Music coming Fall 2016
NWACC for Summer 2017
Check out
www.NWACCinITALY.com
Spend 4 weeks living and studying in Siena, Italy (audit or 6 hours college credit)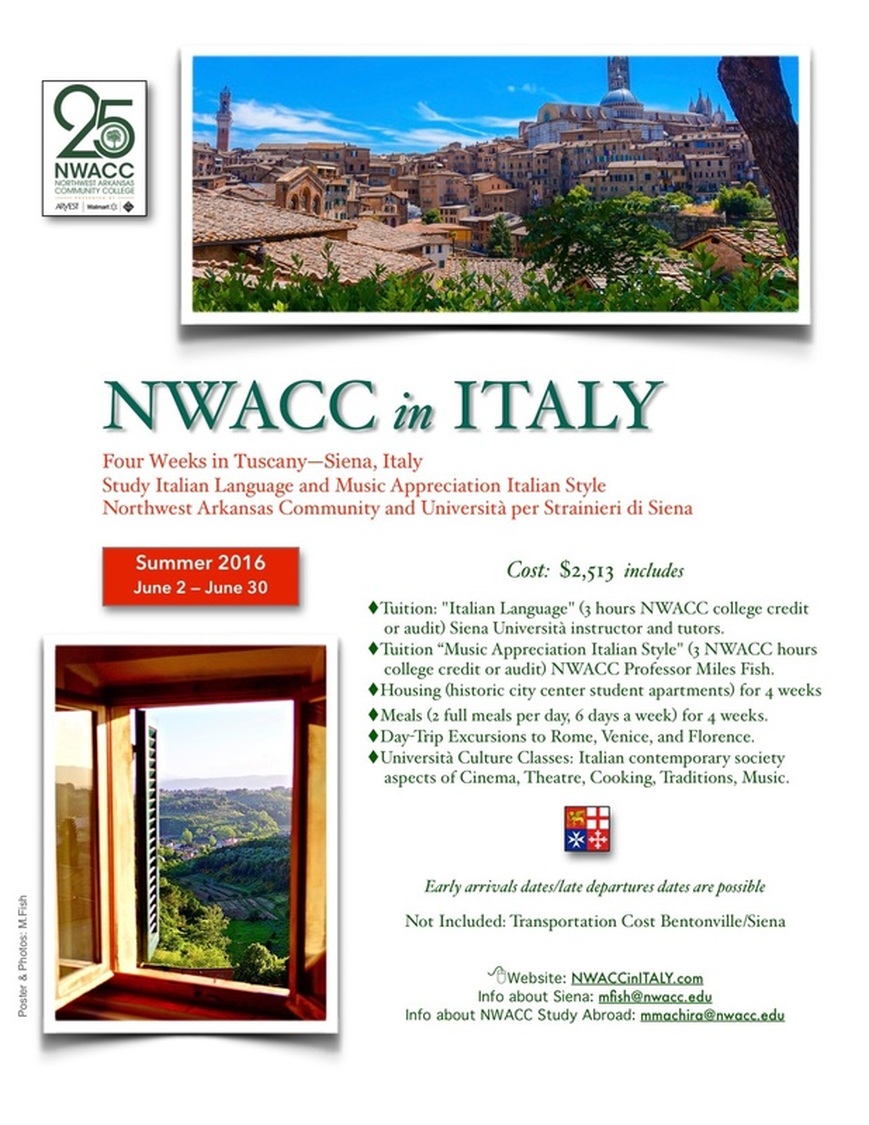 _______________________________________________________________