F Y I from MILES
-Random Notes for the American in Tuscany-
​©MilesFish.com
I. Credit Cards / Debits Cards / Money
II. Drugs
III. Cars in Italy: Renting and Driving
IV. Your U.S. Passport
V. Electrical Outlet Converters
VI. Eating Establishment in Italy
VII. Dining out in Italy


I. CREDIT CARDS / DEBIT CARDS / MONEY
Discovery Cards are not accepted at many places (as of last summer) in Europe. American Express is accepted at most. Visa and Master Charge are accepted just about everywhere.
​Some small cafe/restaurants/shops will not accept credit cards; some will accept for purchases of €20 or more so always have cash available.
Phone your credit card companies and inform them that you will be using your cards while you are out of the US.
Phone and ask your credit card company if they apply "foreign transaction" fees—these can get expensive so take the cards that do not charge extra fees.
Make a copy of your credit/debit cards numbers, security numbers, expire dates, and keep it in a safe place. Also record the credit card phone number (national and international) you should call in case of a lost card.
Do not carry US dollars and exchange them for Euro's in Italy; noncompetitive exchange rates, hidden fees, etc. can be extreme. Travelers checks are non-existence.
ATMs are the way to go. Pay cash at all times if possible. Use your credit cards for larger planned purchases.
Before you depart, make a person-to-person visit to your bank to make sure your bank knows you will be out of the country using your debit card. Some banks will only OK out-of-the-country use for a month at a time; you should sign up for each month that you will be outside the US. While you are there ask your bank your daily limit for international withdrawals.
In Italy try to use ATMs that are physically connected to an Italian bank (there are several in the Siena city center, I'll point them out during our first walking tours of the city center); they will not charge you a percentage for your withdrawals. You will only be charged the fee from your USA bank ($2-$5).
Other independent ATMs (not connected to an Italian bank--they are everywhere) will charge you a fee of 1-3% plus your USA bank fee.
Since you will be charged a US bank fee per ATM withdrawal transaction, most agree that its best to make larger, less frequent withdrawals.
When an ATM post a daily limit, remember that that limit is in €s so do the math on the conversion rate and add your US bank fee before you key in an amount.
Dollar to euro conversion rates change daily; get a free conversion rate app for your phone before you go. Set it at €1.00 = _____USD.
(Here is a simple example for the conversion impaired) If the conversion rate is €1.00 = $1.09 USD and you want to know how many USDs it would take to equal €300.00, multiply 1.09 X 300 = 327. So, it takes $327 to make €300. If your US bank limit is $300 and you key in €300 you will be declined because you are asking for $327.
When you land in Italy, withdraw enough euro to get you from the airport to Siena (€50 should do it). You can make a larger withdrawal once you get to Siena and the ATM rates are more to your advantage.
Italian banks are only open in the morning and one hour in the afternoon on weekdays. ATMs are open 24/7 but may run out of money on the weekends.
Bring backup credit cards (and ATM cards if possible) in case a machine eats your card.
Make sure your credit/ATM card won't expire before you return.
II. DRUGS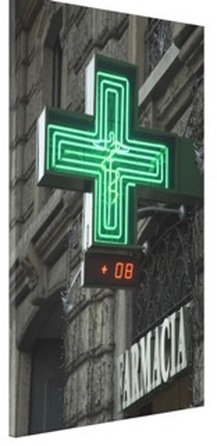 OVER-THE-COUNTER DRUGS in ITALY
There are none to speak of, so bring your own. Over-the-counter drugs are not available at convince stores, gas stations, airport/train station shops, or supermarkets.
For just about all medicines you purchase in Italy, you must personally go to an Italian farmacia (store front pharmacy with a green cross hanging outside).
What we Americans call over-the-counter-drugs such as aspirin, ibuprofen, anti-acid tables, etc. are expensive and you can only purchase them at the farmacia. (The last Ibuprofen I purchased in Siena cost $1.25 per tablet.)
"Over-the-counter" drugs are not usually displayed at the farmacia so be prepared to ask for it by name and by description.
In each town, farmacias stagger the days of the week they are open so there is usually one open near you 7 days a week ( in Italy it's call the "rota" system and it's designed to ensure an open pharmacy during weekends). There is a 24 hour number to phone in case of emergencies.
The good news is this: There will be a doctor on duty at the farmacia and there is (almost) always some one at the farmacia who speaks English. You can explain your ailment to the farmacista on duty and they will prescribe and sell you your medicine.
TRAVELING WITH PRESCRIPTION DRUGS
The "official" way is to carry them in the labeled bottle you received from your US pharmacy.
Carry a copy of your written prescription (with generic and "real" names of drugs) in case you need a refill; the farmacia might be able to refill it.
(I don't do this. Because I am gone for several months, I carry my prescription drugs in a plastic bag and have a pic of my prescription bottle on my smart phone.)
Carry your prescription and over-the-counter drugs in your carry-on bag (or at lest a weeks supply) in case your checked luggage is lost (happens all the time).
PURCHASE AND USE OF ILLEGAL DRUGS
Just say "no." Really. (Watch an episode of "Locked up Abroad" if you need a refresher course on what can happen to foreigners who get caught breaking drug laws.)
While personal use of cannabis has been decriminalized in Italy—much like 20 states in the US have done—it is still illegal to use, possess, cultivate, transport and sell. Medical use of cannabis legal with a valid prescription (that is difficult and complex to obtain).
Penalty for sale or traffic of cannabis stands at 2-6 years imprisonment and fines of up to €75,000; 8-20 years and large fines for hard drugs.
There is an Italian bill that has yet pass—that the government supports—that will eventual decriminalize marijuana consumption but that has not happened yet. So, pot is still against the law in Italy.
Smoking tobacco products in Italy. Italy was one of the first countries in the world to ban smoking in ALL indoor spaces. Smoking is permitted outdoors including outdoor cafes.
---
III. Cars in Italy: Renting and Driving
Random Notes for the American in Tuscany
©MilesFish.com
III. CARS IN ITALY—RENTING AND DRIVING
Sweet 16—Sixteen Things You Should Know if you are going to Rent & Drive in Italy
​
1. Some rental agencies in Italy are: Hertz, Avis, Budget, National, Dollar, Europcar
2. I use Hertz in Italy. Even when I'm in Siena, I go online and reserve my car (I use
rentacar.com
to book my Hertz car, their rate is often better than booking directly with Hertz) then I go the Hertz office near the Siena train station to
pick up my car.
3. Lines for car pickup inside the car rentals establishments are not usually long BUT the attendants often spend a lot of time with each customer. Somethings it's a 30 minute wait until it's your turn so allow for this if you are on a strict time schedule.
Attendants at the rentals speak English.
4. Remember, you should have an international drivers permit if you drive in
Italy (there are several websites—check out
http://www.aaa.com/vacation/idpf.html
) NOTE: you are not required to have the permit to rent a car, you only
need your USA driver's license and your passport for that. However, if you are stopped by the police (carabiniere) and you do not have your international permit, you may face heavy fines and possibly have your rented car impounded. And remember to
always carry your passport when you are driving.
5. Before you depart, check to see if any of your credit cards offer insurance coverage for international car rental (some American Express cards do). This could save you money.
6. If you are renting a car for the return trip to Florence before you fly out of FLR, allow an extra couple of hours (at least) to drop off the rented car. The rental return location for (almost) all rent-cars is a short distance from the airport; you must
return your car, have it inspected, then take a tram to the airport (no extra charge).
7. You may witness additional car rental charges on your credit card months after you return. They are usually small charges, I dispute them and, so far, the charges have always been removed.
8. You cannot drive in the Siena city center and you cannot drive in Florence (if you drive to Florence it is best to park at the airport and take the tram into the city center). My last fine for driving "through" Florence was $125 USD--
cameras at the stoplights photo your license then bill your Rent-a-car company…sometimes months later. Parking at all other Tuscan towns is free or low cost, simple, and easy.
9. Italians drive on the right side of the road just like we do in the US. If there are multiple lanes, the left lane is ONLY used for passing (drive in the left lane and the Italians will honk you off the road). The "left is for passing only" also
applies
to escalators and moving sidewalks at airports.
10. Traffic fines run €35 for parking in the wrong spot to €150 for speeding. If you don't pay, the police will notify your car rental company and the car rental company may charge your credit card for the traffic offense plus extra fees.
11.
The general assumption concerning traffic fines (throughout Europe) is that you are guilty unless proven otherwise. It's cheeper to pay the fine, especially if you plan on visiting the country again.
12. Back in the old days, Italian traffic officers rarely gave speeding tickets. Now with the use of "speed cameras" that has changed. I've heard that the "tolerance" level for speeding is less than 10 Km/h (about 6 mph). Except when posted otherwise, the following speed limits apply:
130 Km/h (80 mph) major highways (Autostrada)
110 Km/
h
(68 mph) non-major highways
90 Km/h (56 mph) local roads
50 Km/h (31 mph) urban areas
13. There are a LOT of toll roads in Italy so when you drive, carry plenty of euro (change and paper currency).
14. Gas prices in Italy are among the highness in Europe (second only to Norway and the Netherlands). Currently gas in Italy cost the equivalent of $6.00 USD for 1 USGallon.
15. Although it is cheeper to use public transportation, there is nothing quite so satisfying (or as educational) as renting a car and taking your own one or two day road trip.
16. The Autogrill. I love Autogrill. On the Autostrada (major highway, usually divided) you will find one every 40 kilometers or so. There are three kinds of these Italian based roadside enterprises in Italy and throughout Europe.
Auto grill REST STOP—gas and snacks (logo: cup of coffee on the Autostrada sign)
Autogrill CAFFE—gas and some made-to-order snacks (logo: same as above)
Autogrill RESTAURANT/BAR—large cafeteria and cook-to-order restaurants, many of them span all four lanes over the Autostrada (see pic below) with souvenir shop and to-go foods/drinks. (logo: knife and fork on the Autostrada sign)
__________________________________________________________________________
IV. Y O U R U. S. P A S S P O R T
Random Notes for the American in Tuscany
©MilesFish.com
YOU WILL NEED YOUR PASSPORT WHEN YOU...
1. Check your luggage for international flights
2. Board your flight
3. Go through customs at the airport
4. Cross the border into a new country (private or public transportation)
5. Purchase an Italian cell phone
6. Send stuff home
7. Rent a car
8. Drive a car
9. Email or surf the net at a public computer such as hotel lobbies and internet cafes
10. Register in person at the Universita
11. Check into your Universita lodging in Siena
12. Check into any hotel in Italy
13. PERSONAL NOTE: I carry my passport along for all of the above; the rest of the time I leave it locked in my room (because losing your passport can lead to a nightmare). I always carry a color copy of my passport photo/data page along with my drivers license and NWACC photo ID.
​
​
14. OFFICIAL NOTE: By law you must be able to show identification at all times and in most cases a photo copy of your passport should suffice. BUT…technically, police can ask you to accompany them to your hotel or apartment and collect your original passport or they can require you to produce it within 12 hours (never known either of those things to happen). If you are stopped while driving you must show your full passport
(that happens all the time).
REMINDER: All of the "FYI from Miles" emails are posted at www.NWACCinITALY.com (page 3, near the bottom) or CLICK:
http://milesfish.com/fyi-from-miles.html


​
V. Electrical Outlet Convertors

​VI. Eating Establishments in Italy
FYI from Miles

​ Random Notes for the American in Tuscany
©MilesFish.com
EATING ESTABLISHMENTS IN ITALY
BAR—Usually smallish family-friendly establishment serving snacks, light meals and wine (not at all what we Americans think of when we think of a "bar").

​

CAFFE:—Same as Bar but with coffee emphasis.
AMERICAN BAR—Cocktail bar (not many of them in Tuscany—Italians aren't much on mixed drinks; the sign outside will clearly state "American Bar" or "Bar Americano").
PASTICCERIA—Pastry shops to take-away or eat-in (they sometimes have meats, cheeses, olives, and wine).
PANINOTECA—Italian sandwich shop cured meats on assorted breads.
PANNIER—Sandwich shop food trucks; you'll see them at the Siena Wednesday morning market.
GELATERIA—Italian ice cream shop (wonderful!). Perfect way to end the day.

OSTERIA—Simple restaurant with simple meals and vino by the pitcher (I'm told that in the old days an Osteria was a restaurant connected to an inn—think hotel coffee shop).
TRATTORIA—Another simple restaurant but possibly an up-grade in size and menu selections from the Osteria. (Trattoria in the US is a somewhat pretentious term; not so in Italy, a Trattoria is a place for great simple peasant food.)

RISTORANTE—Elegant eating establishment with prices to match.
ENOTECA—Bar where only wine is served and wine may be for sale by the bottle to take-away.
PIZZERIA—There are two kind of pizzerias in Siena. 1. Authentic Italian Pizza baked in a charcoal brick oven and 2. Non-authentic pizza baked in electric ovens like in the U.S. NOTE: you can only get Authentic pizza after 7:30 PM, Italian law prohibits firing up the charcoal ovens until near sunset. Also note that in Siena there are several affordable pizza-by-the-slice shops that cater to students.
PIZZICHERIA—A shop selling ready to eat meat and cheese and other prepared simple dishes. (There are several in Siena's center city; their lunch prices are cheap to moderate so I eat there often—you can eat in or take-away).
CANTEEN—Universita cafeterias; there are three of them in Siena and NWACC students may eat an all three.
IRISH or AUSSIE PUBS—Most Italian university towns have them. They are late night drinking establishments that cater to mostly non-Italian students. Be careful.


​Dining out in Italy
Random Notes for the American in Tuscany ©
MilesFish.com
​
DINNING OUT in ITALY
ITALIAN MEALS—
COLAZIONE—breakfast is usually served until about 10:00AM and often consists of cappuccino or caffè latte, bread, jam. cheese, and yogurt.
PRANZO—lunch is served between 1:00PM and 4:00PM. Restaurants don't usually open for lunch until 1:00PM.
MERENDA—mid-afternoon snack of gelato, cookies or fruit.
CENA—dinner is usually served between 7:30PM and 10:00PM.
SECTIONS OF AN ITALIAN MEAL—
Traditional Italian menus have five sections. A full "formal" Italian meal usually consists of these courses:
1. ANTIPASTO—(anti—"before"—the pasta dish) an appetizer of cold cuts and cheese, bruschetta, etc.
but not a salad.
2. PRIMO—the first course, usually pasta but could be soup or a rice dish; it is a continuation of the
antipasto. Note the primo (pasta) dish is not a main course nor is the pasta dish served with the main
course.
3. SECONDO—the main course of meat, poultry, or fish.
4. CONTORNO—a vegetable side dish or salad (insalata). Note: a salad is eaten either with or after the
secondo (main course) but not before the main course.
5. DOLCE—dessert, often fruit.
NOTES ABOUT THE MEAL COURSES
American's often order only a Primo (pasta dish). This is a very tourist thing to do—and I am as guilty as the next tourist. Consider ordering at least two choices when you eat out—Antipasto and Primo (appetizer then pasta) or Primo and Secondo w/Contorno (pasta then meat/poultry/fish with a side dish).
Most places also offer vegetarian selections.
Italians don't put parmesan cheese on sea food pasta dishes.
They don't eat bread with the
appetizer
or pasta course. They eat bread with the main course and may drizzle a little olive oil on it (but they do not
serve
butter with bread).
There is no such thing as "fettuccine alfredo" or "spaghetti with meatballs" in Italy. And there is no such thing as dipping bread in little dishes of olive oil and herbs.
Peperoni is a red pepper not a sausage (the sausage one in the US is pepperoni—double p). If you tell your waiter you want a pepperoni pizza you are are going to get a peperoni (strips of peppers) pizza. What you're looking for is a "pizza al salamino" (check out the PIZZA section below).
In Italy there is only one salad dressing: oil and vinegar (olio e aceto) so there is no reason to ask for anything else.
Traditionally, Italians peel all fruits before eating them
CAFFÈ
Coffee is drunk at the end of the meal, never with it.
If you order coffee in Italy you will be served an espresso.
For a coffee drink that is closer to home, order "caffè Americano"—a shot of espresso w/hot water.
Cappuccinos and lattes—white coffees—are not drunk after 10:00 in the morning.
Cappuccinos and lattes are never drunk with or after lunch, mid-day snack, or dinner.
WHAT TO DRINK WITH LUNCH/DINNER
Italians usually drink wine or water with meals; beer, soda or water with pizza (they don't drink wine with pizza, if and when they do it's a light sparkling wine).
Often the meal is ended with a shot of grappa or limoncello (strong liquors served chilled and
neat) or Vin Santo (holy wine—possibly the world's first communion wines) usually served with cantucci (Sienese take on biscotto) for dipping in the wine.
If you order a soft drink you must also order it with ice (and you
may
get one little cube). Italians are not very sympathetic with the American love of iced drinks.Spring bottled water is the norm when dining out. Your waiter will request you to order either
carbonated
(fizzy) or
still
(non-fizzy).
PIZZA
The two general types are pizza rossa (red pizzas) and pizza bianca (white pizzas—without
tomato sauce)
The two most common are the thin crust, very plain Pizza Margherita and Pizza Marinara.
Pizzerias may offer such additional toppings on their Margherita and Marinara pizzas such as prosciutto (finely sliced ham), funghi (mushrooms), and other veggies. Some pizzerias will also offer toppings such as sunny-side up fried eggs, French fries, hotdogs, and additional kinds of cheeses (but no ground beef on Italian pizzas).
Italian's DO NOT sprinkle parmesan cheese on pizza…don't even ask.
They drink beer, soda, or water with pizza. They do not drink wine with pizza (unless it's a light sparkling wine).
Authentic Italian Pizzas are made according to strict legal guidelines that include baking in a charcoal brick oven (until the crust is slightly charred). Since Italian law will not allow the pizza ovens to be fired up until near sundown, authentic Italian pizzas are only available at night. American style (electric oven) pizzas are available all day/night.
TAKE YOUR TIME…you're in Italy now
At dinner, when you eat in a restaurant or bar, the table is yours for the evening. "Turn-Over" is not an Italian concept; the waiter will only bring you your bill after you ask for it.
Dinner in Italy is a grand affair. Traditional meals may last one or two hours or longer. Learn to love it.